Obituary for Dorothy Helen Hallmark
Dorothy Helen (Kalb) Hallmark, 91 years of age, passed away on May 18, 2018 while in home hospice at her share residence with son David and his wife Vicki in Houston, Texas. David was at his mother's side when she passed away with cardiac complications. She was blessed to have many loved ones viusit her bedside during the last month of her life.
Dorothy was born on October 19, 1926 at her Grandmothers Black's home, west of Baldwin City, Kansas. She was the first born of Ralph Ingalls Kalb and Mary Helen (breithaupt) Kalb who were dairy farmers residing at and working the original Black farm. In a few years, the Kalb family grew giving Dorothy two younger sisters, Mary Mildred and Laverne.
The Kalb family lived a meager life during the depression, having to sew their own dresses made from emptied feed sacks but they made do during the lean years. They are their own produce, eggs, and milk. They often shared their food with more unfortunate neighbors and townsfolk living in Baldwin City.
At a young age, Dorothy loved to read and listen to mystery programs on the radio. During her life she was oft5en heard saying, "A good book can carry you to far off lands without taking a single step."
She attended Black Jack School District #9 along with her sisters Mary and Laverne. Black Jack was only a quarter mile to the east of the Kalb's homestead and housed children in grades ine through eight. Dorothy's graduating class had two students.
She attended Baldwin City High School and though Dorothy had to return home early each day to do her chores, she was an avid member of 4-H, the choir, and the Pep-Club.
In the summer of 1943, after graduating from high school, Dorothy did her part for the war effor5t by working at The Sunflower Munitions plant in De Soto. One afternoon when returning home on a Sunflower bus she exited and was hit by a drunken driver. She was given little change of living but struggled to do so. She did keep her life, but unfortunately she did not keep her left leg. It was amputated above the knee. The loss was disheartening to the 18 year old Dorothy.
She missed her first semester of college while completing a lengthy physical and emotional rehabilitation. During this time, her father, modified an old Ford sp his daughter could drive the clutch operated vehicle using hand controls. With much practice she became efficient at driving the car and was able to attend Baker University at Baldwin during the spring sesmet of 1944. She drovew to school and returned to her home each day.
The following year Dorothy changed her residence to The Independent Cooperative House on campus where she made many life-long friends. Dorothy was affectionately called "Dot", "Dottie", but most often "Kalbie" by the residents of the Cooperative. It was said by all that she was sweet, had a friendly personality, a positive out-look on life, and always wore a smile. During her Baker years she was a member of The University Choir, The Home-Economics Club, and The Independents who did charitable works. In her senior she was one of twelve students chosen to The College Fellowship group, representing the Independents at a nation-wide symposium for college groups dedicating their time to the more unfortunate. Dorothy completed her degree after the spring semester of 1947 and in 1948 received her Bachelor of Science degree stressing English and Home Economics Education.
Little did she know at the time, Dorothy met her future husband at the age of fifteen. Sixteen year old Leslie Hallmark, his mother, sister, and Stepfather attended a small dinner at the Ralph Kalb farmhouse to celebrate Leslie's mother's marriage to Howard Kalb. Howard was Ralph Kalb's uncle and Dorothy's great-uncle. Although they were distantly related by marriage, Dorothy thought that Leslie was really cute! During WWII, while Dorothy was in school and Les was in the navy, they corresponded with each other and developed a close relationship. They were engaged to each other in 1947 and were married on August 25, 1948. That day Dorothy Helen Hallmark from Baldwin City was wed to Leslie Glenn Hallmark from Wellsville. The wedding took place at The First United Methodist Church in Baldwin, where the members of both families were also members of the same church. The newly married couple took up residency south of Lawrence, Kansas overlooking the Wabaunsee River. While Les worked for The Douglas County Road Works, Dorothy was of the home expecting her first child. Tragedy visited Dorothy's life once again when her first born (Mary) was premature and died only days after her birth. To allay her grief, Dorothy's mother convinced her to take her first teaching job in Everest, Kansas. Her mother's twin brother was Principal and Superintendent of Everest Schools. Dorothy accepted the job offered by her uncle. Though Les stayed at their home outside of Lawrence continuing to work, he made the 60 mile trip to Everest often. With two months left in her teaching contract, Dorothy was with child once again. Dorothy quit her teaching job and the couple moved to Lawrence at 813½ Massachusetts, a large one room flat above a shoe store. A healthy David Hallmark was born in January of 1951.
Needing more room, Dorothy and Les moved to a small house 4th street in North Lawrence. Dorothy raised her son while Les worked two different jobs and attended The University of Kansas. In July of 1952 a second son, Alan, was born. In 1954, Les received his Bachelor of Science Degree in Education. The Hallmark's then moved from Lawrence to Circleville, Kansas for Les to begin his teaching career while Dorothy remained in the home raising her two boys. After one year at Circleville, Dorothy decided to start teaching again. The Hallmarks moved to Narka Kansas, beginning their long list of communities in which one or both would be teaching. The two Hallmark's teaching careers included 12 different High Schools, but 30 of Dorothy's 37 years of teaching were in Spring Hill, St. Marys and Rossville. The love of reading influenced Dorothy to shift from the classroom to become a Librarian. She took several college classes during the summer and became Spring Hill High School's librarian in 1960. She began working toward her Master's Degree in Library Science the following summer. While in her Masters training program, she transformed the library at Spring Hill from a reading room with no book indexing system into an organized facility where students could do their data gathering and research, but still enjoy a good book once in a while. She earned her MS in Library Science from Emporia State University in 1966. The Hallmarks then moved to the St. Marys-Rossville area and began teaching for USD 321.
Dorothy used her librarian talent to transform both St. Marys High School and Rossville High School into cutting edged, technological facilities. This was an accomplishment of which she was quite proud. In 1971, Dorothy and Les left USD 321 for three years, but returned to live in St. Marys while teaching at Rossville for the remainder of their teaching careers. Dorothy retired in 1988 after 12 consecutive at Rossville High School. Both Dorothy and Les had many teacher friends in the area and were well liked by their students. Dorothy and Les bought a fifth wheeler and began travelling extensively throughout all of the 50 states in the US and many trips to Mexico. Dorothy wanted to see, in person, some of those 'far off lands' of which she had read. After several years of travel, they sold their house in St. Marys and found a winter home-base at Citrus Valley RV Park in McAllen, Texas. While at The Park, Dorothy organized their library and also became a prodigious quilter, gifting family members and friends with her beautiful products. Each year she donated a quilt to the Lakota tribe in South Dakota that was given to a selected twelve year old homeless girl at Christmas time. Dorothy developed close friendships at Citrus Valley, becoming a member of The Quilters Club, and participating in the activities The Park had to offer. After Leslie passed away in 1996, Dorothy continued to travel the roads in her own mini-RV. She visited her sons' families in Houston, Texas and Richmond, Virginia during holidays and summers. Dorothy also traveled to Kansas often to see her sisters, their families, and close friends. Dorothy loved to quilt, read, and have fun with her friends and family. You could tell she was contented when she whistled a cheerful tune. When becoming especially pleased, she would excitedly exclaim, "Neat, neat, neat!" After her macular degeneration and mobility problems advanced, Dorothy's doctors advised that she not live alone. She then moved to Houston, TX and received fulltime care from her son David and his wife Vicki in their home. Dorothy Hallmark was a benefactor to many organizations: Emporia State University, Baker University, The University of Kansas, Kansas State University, The Animal Justice League, Disabled Veterans, The Paraplegic Artists Group, The Sioux Nation's St. Joseph's Indian School, and others. She was especially pleased with establishing and administrating The Hallmark Scholarship Fund immediately after her husband's death in 1996. The Fund awards a scholarship to a selected college bound high school senior living in the Rossville and St. Mary's area. She especially loved to receive the thankyou note from each of the 22 recipients from 1996 to 2017. Alas, she did not get to read the 2018 thank you note, as she passed away two days before the message was received. Dorothy Hallmark was a loving daughter, sister, mother, grandmother, great-grandmother, aunt, great aunt, and a beloved friend to so many other people. She was preceded in death by her parents, Ralph Ingalls Kalb and Mary Helen (Breithaupt) Kalb, daughter Mary Hallmark, husband Leslie G. Hallmark, and both sisters Mary Mildred (Kalb) Clark and Laverne (Kalb) Deay. Surviving family are sons David and Alan, two daughter-in-law's, five grandchildren, eight great-grandchildren, numerous nieces, nephews, and their families. She loved them all. An August 25th memorial services will be held in Lawrence, Kansas. In lieu of sending flowers, Dorothy's wishes were that you make a donation to The Hallmark Scholarship Fund or one of your own choosing. If you would like to contribute to the scholarship fund, make your check payable to David G. Hallmark at 8207 Schaffer Lane, Houston, TX. 77070. David is now the administrator of The Hallmark Scholarship Fund.
To send flowers or a remembrance gift to the family of Dorothy Helen Hallmark, please visit our Tribute Store.
Events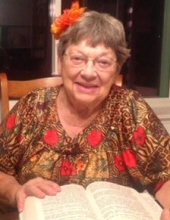 Thank you for sharing your
memory of Dorothy
Provide comfort by sending fresh
flowers from our local florist.
No thanks, please don't show me this again.